Applying cyclosporine ointment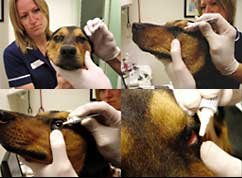 Please contact your veterinarian if you are unsure how to administer your dog's medication.
There is 3.5 g of ointment in tube that can hold up to 10 g. This means you should always expect some air in the tube when you use this product.
Unlike many other eye treatments, only a small amount of ointment – about the size of a small grain of rice (5 mm) – is needed for each application.
Don't roll the tube at the bottom to get the ointment out – it may split and cause wastage.
Wear gloves during application
Store the product at room temperature.
Apply the product twice a day, ideally at 12 hourly intervals.
Discard any unused product after 1 month.